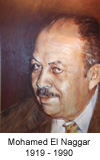 Naggar Group, a name, a reputation. We have been serving the shipping sector in Egypt since 1907. Today we are a group of companies that specialize in several business and industry sectors. Our activities are diverse but our aim is always exploring new ideas and seizing up opportunities that would benefit both our domestic and international clients. The group is comprised of three major companies that serve a specific business or industrial sector.
If you are interested in knowing more about the shipping side of our business, please click on the logo that says "Eurogypt". This site will show you our history, our current functions in the shipping market, and all the services we provide in the shipping industry. Working as ship-owners, ship-operators and shipping agents with offices in all Egyptian ports enables us to build very good relationships with many governmental/port authorities.
If you are looking for potential representation of your company in the Egyptian market, please refer to "Mast Egypt", as it handles the commercial side of our business and can help you see what it is you are looking for, all the way from representation, where it is as commercial agents or official distributors to warehousing and logistics. You can also see all the industrial markets that we are currently involved in.
Finally, "Mast Energy", the youngest member of the group, handles everything related to the petroleum industry, coal industry and renewable energy industry.

Our vast history in the shipping industry has enabled us to handle various types of cargo so with this we have created very close ties and immense experience with all the major players in the coal, cement, iron ore, oil and container terminal industries, among others. We are ever-so eager to create and explore new ideas and seize up new opportunities in this immense Egyptian market.
Please do not hesitate to contact for any inquiry. Our aim is providing you with the best value of quality products and/or services.